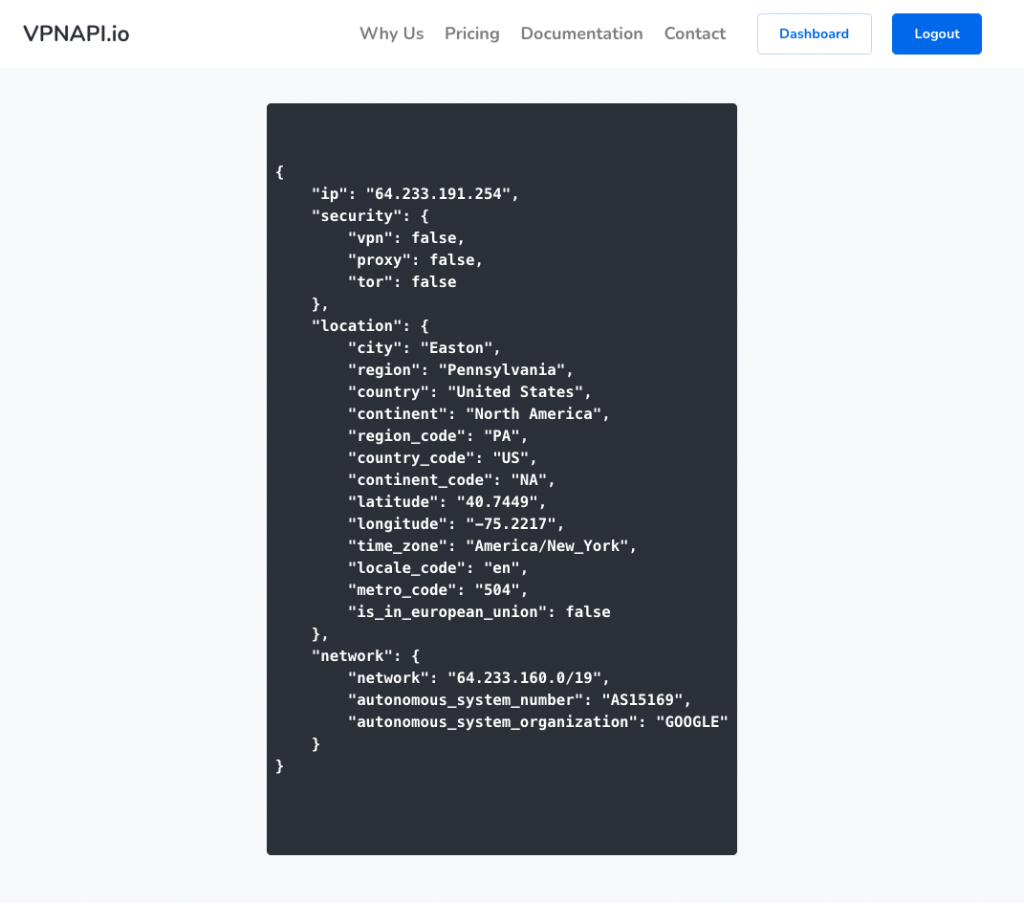 With an IP geolocation API, you can easily identify the location of your website visitors. There is no need for your website or application to request access to the user's location or GPS. This will allow your website to easily locate your user's location without the need to hassle them.
In addition to that, an IP geolocation API is a beneficial tool for web developers and business owners. The API allows IT administrators to easily identify and track where their users are located, making them aware of their website's demographics. For website developers, integrating a geolocation API allows your website to automatically change the timezone and currency based on the user's location. Our main goal is to create a geolocation API that can simplify the lives of web developers and business owners.
Why choose VPNAPI.IO as your IP Geolocation API Provider?
Now you may be wondering, what is different between our IP geolocation API? For one, we don't just offer geolocation in our API, but also security and network information. With these information, your website or application can now identify and block proxy or VPN users. Doing so can greatly reduce the amount of attacks and spam on your application. As for the network information, you can easily blacklist or whitelist a specific IP range or an entire organization from viewing or modifying your application.
Secondly, we are constantly crawling tons of data across the web every second. This allows us to ensure that our information is consistent and up-to-date. Also, if any of our servers were to go down, we have backup servers to constantly keep our API up-to-date. Using cloud servers, our API runs on servers all around the world, which also guarantees a 99.9% uptime.
Our geolocation API data is based on machine learning and data science. Our API's data is sourced by working closely with many internet service providers and by using multiple IP geolocation databases. Working with internet service providers guarantees that our information is factual and up-to-date. However, due to the fact that there are tens of thousands of different network organizations, we must also rely on geolocation databases. In fact, we work with multiple database providers who are constantly updating their geolocation information on their end. Where our system then uses machine learning in order to find the most accurate location of an IP address.
For developers who want test out our Geolocation API, you can feel free to contact us by clicking here. We are more than happy to work with developers in order for them to build their applications with our API.